This information is intended to help Racine-Web Design Customers setup their e-Mail on their client.
In overview, your account name is always your FULL e-Mail address (ie. [email protected]). Your incomming mail server or POP3 server name will be "mail.yourdomain.com". Your outgoing mail server will be supplied by your ISP (your Internet Provider, ie. AT&T, comcast etc). Most ISP's require that all out going mail be sent through their own SMTP servers.
Your mail can be configured on any client that supports POP3 mail. This includes gmail.com, Microsoft OutLook, Outlook Express, Thunderbird, Eudora and many others.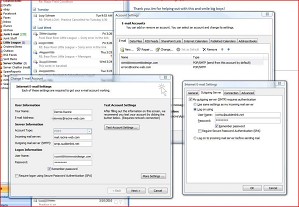 Setting up your client:
Account Name/Login Name: [email protected]
POP3 Server: mail.yourdomain.com
Port: 110
SSL: No
SMTP Server: This will be defined by your ISP. In most cases will you need to configure this in the advanced settings and enable 'my outgoing server requires authentication' and enter your ISP login name and password.
To test your account name and password you can go here: http://rwdmail1.racine-web.com/horde/ and login to our web-client.
Outgoing Mail, via GMAIL:
If your using your cell phone via Verizon, you should know that Verizon has disconninued their own SMTP services, so you must use a 3rd party. Gmail is a good way to go for this. This is also a good alternative with some ISP, if they even allow you to send out mail via a 3rd party.
SMTP Server: smtp.gmail.com
Port: 465
SSL: On
Require Sign-In: Yes, use your gmail e-mail address and password
Below is a list of common ISP SMTP servers.
A - F
Amaze.net.au: mail.amaze.net.au
Ameritech DSL: mailhost.col.ameritech.net
aol: aol.com
aol: za.mx.aol.com
aol: zb.mx.aol.com
aol: zc.mx.aol.com
AT&T: smtp1.attglobal.net
AT&T: mailhost.worldnet.att.net
AT&T WorldNet: mailhost.att.net
AT&T WorldNet: mailhost.worldnet.att.net
Australink.net: mail.australink.net
bellatlantic.net: smtpout.bellatlantic.net
Bluelight.com: smtp.mail.yahoo.com
BlueYonder: smtp.blueyonder.co.uk
Bondinet.com: mail1.oznet.net.au
Breathe: mailhost.breathemail.net
bright.net: mail.bright.net
Bt Click: mail.btclick.com
Bt Connect: smtp.btconnect.com
BT Internet: mail.btinternet.com
BT Openworld: mail.btopenworld.com
BusinessServe: smtp.businessserve.co.uk
Cableinet: smtp.blueyonder.co.uk
Claranet: relay.clara.net
Comcast: smtp.comcast.net
CompuServe 2000: smtp.cs.com
CompuServe Classic: mail.compuserve.com
Cox (east): smtp.east.cox.net
Cox (west): smtp.west.cox.net
CWCom: smtp.ntlworld.com
DCAnet: postoffice.dca.net
Demon: post.demon.co.uk
Earthlink.net: smtp.earthlink.net
Easynet: smtp.easynet.co.uk
ee.net: mail.ee.net
Freeinet.com: mail.ma.freei.net
Freeserve/Wanadoo: smtp.freeserve.co.uk
Freeserve: smtp.freeserve.net
Free-Online: relay.free-online.co.uk
G - L
Gateway: smtp.gateway.net
Genie: mail.genie.co.uk
Greenbank.net.au: mail.greenbank.net.au
Hotkey.net.au: mail.hotkey.net.au
ibm.net: smtp1.ibm.net
IC24: smtp.ic24.net
icdc.com: mailout.icdc.com
INFOLINK.com: mail.nfolink.com
Interlink: mail.your-net.com
Inweb Networks: post.inweb.co.uk
IronNet: mail.iron.net
iwayNET: smtp.iwaynet.net
Jade Inc.: mail.jadeinc.com
Lineone: smtp.lineone.net
Log on America: mail.loa.com
Logicworld.com.au: mail.logicworld.com.au
Lycos: smtp.lycos.co.uk
M - R
Madasafish: smtp.madasafish.com
MegaNet: smtp.meganet.net
Microsoft's MSN: smtp.email.msn.com
MidOhio.net: mail.midohio.net
MindSpring: smtp.mindspring.com
MindSpring: mail.mindspring.com
Mistral: smtp.mistral.co.uk
MSN.com: smtp.email.msn.com
MSN.DSL: secure.smtp.email.msn.com
NamesToday: smtp.namestoday.ws
netcom.com: smtp.ix.netcom.com
netreach.net: smtp.netreach.net
Netscapeonline: mailhost.netscapeonline.co.uk
NetSet: mail.netset.com
NetWalk.com: mail.netwalk.com
netzero.net: smtp.netzero.net
nextek.net: mail.nextek.net
Nildram: smtp.nildram.co.uk
nni.com: nni.com
Northstar Data Systems: mail.nn.net
NTL World: smtp.ntlworld.com
OneTel: mail.onetel.net.uk
OneTel: mail.onetel.com
On-Ramp: mail.marion.net
Ozemail.com.au: smtp.ozemail.com.au
peoplepc: mail.peoplepc.com
Phone Co-op: smtp-1.opaltelecom.net
Pipex: smtp.dial.pipex.com
Plus Net: relay.plus.net
Prodigy: smtp.prodigy.net
Purplenet: smtp.purplenet.co.uk
rcn.com: smtp.rcn.com
redbird.net: mail.redbird.net
RichNet: mail.richnet.net
Road Runner (Insight Communications): smtp-server.insight.rr.com
Road Runner (Time Warner): smtp-server.columbus.rr.com
Road Runner (Time Warner): smtp-server.nc.rr.com
S - Z
Screaming.Net: smtp.tiscali.co.uk
Spire: mail.spire.com
Supanet: smtp.supanet.com
Telewest: smtp.blueyonder.co.uk
Telocity: mail.telocity.com
Tesco: smtp.tesco.net
Tesconet: mail.tesco.net
Tiscali: smtp.tiscali.co.uk
Totalise: mail.totalise.co.uk
TPG.com.au: mail.tpg.com.au
TTLC: mail.ttlc.net
UKGateway: smtp.ukgateway.net
uu.net: uu.net
V 21: smtp.v21.co.uk
Verizon: smtp.verizon.net
Virgin: smtp.virgin.net
Vispa: mail.vispa.com
voicenet.com: mail.voicenet.com
Waitrose: smtpmail.waitrose.com
Wanadoo: smtp.wanadoo.fr
Webcom: smtp.webcom.com
Which Online: mail.which.net
Wide Open West: smtp.mail.wowway.com
Wide Open West (users with @wideopenwest.com): smtp.mail.wideopenwest.com
Worldonline: smtp.tiscali.co.uk
Yahoo: smtp.mail.yahoo.com
Yahoo: smtp.sbcglobal.yahoo.com